A miraculous cure through Carlo Acutis. The heartbreaking testimony of a wife and mother who discovered that her husband was addicted to porn, and how he broke free from it.
I am now thirty-eight years old… Two years ago, we went through a terrible ordeal as a couple. We were married in church fifteen years ago and I can testify to the wonderful graces of the sacrament of marriage. When I discovered that my husband had fallen into the grip of pornography, I fell apart. "Anything except that!" I can't explain it but you feel totally devastated and yet it wasn't me who was searching for those images.
I loved my husband too much to believe that it was true, that he had fallen into this trap. I could see that he wasn't feeling great. I have to say that there were many extenuating circumstances but I felt terrible about the fact that he was watching these videos. I felt alone. This subject is still considered a taboo, so who can you talk to about it? It is so hard; and it affects our intimacy as a couple.
God is so good that He hasn't abandoned us. At the same time, the SOSPorn website had just been launched and I got an email about it. I had the courage to visit the website and I discovered the prayer of deliverance through Carlo Acutis's intercession. So I prayed for my darling husband. Prayer is essential, but I still felt alone. I then took the decision to use the Chat facility and the Lord, in His infinite goodness, put me in touch with the right person at the right time. Thank you!
I was able to have a friendly chat and discussion. I was also able to confide in a friend who was a priest and who had given us a lot of support. I had a desire to save our marriage, our love and the man to whom I had committed my life and whom I loved. That's when I moved heaven and earth. You know, when you have a sick child, you do everything to care for them, reassure them and cherish them, even when you are exhausted. Well, that's what I set out to do for my beloved husband!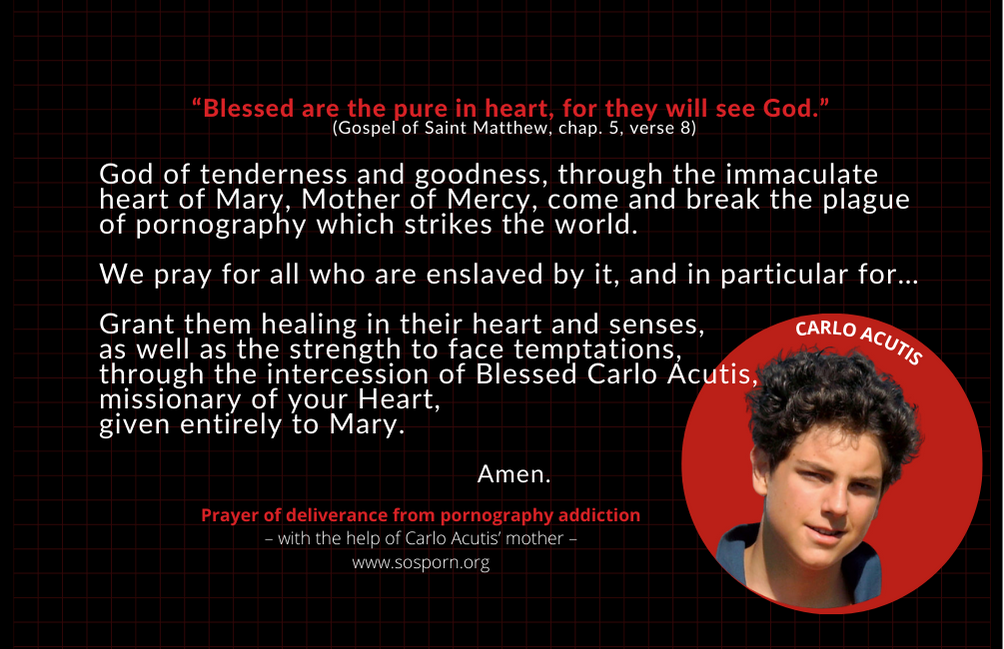 A prayer for a miraculous cure through Carlo…
I wanted to fight, to tell myself that it was possible to help him. It was a lot to take in. For sure! I used to cry a lot when I was alone. I got angry too.
Sometimes I said things to him and it was as though he'd been electrocuted. I also tried to continue to love him as he was, with his wounds, and to let myself be loved…
None of this would have been possible without the support of prayer. Thanks to SOSporn and its members, I really felt supported. I can truly say that my husband was miraculously cured through Carlo Acutis and thanks to SOSporn. In fact, during the beatification of Carlo Acutis and the veneration of his body by the faithful, members of SOSporn placed my husband's name before Carlo, and Carlo's mother also prayed for my husband. For my part, I prayed to Carlo a lot. He has become my little brother in heaven who watches over my darling husband, our marriage, and our family.
When my husband realized that he was hurting himself and our marriage, he agreed to let himself be helped… by me. I felt so weak but we had entrusted ourselves to each other on our wedding day. I let myself be led by the communion of saints, especially Carlo and Saints Louis and Zélie Martin.
We love the sanctuary at Alençon. We had planned to go and pray in the chapel, where there was Adoration of Jesus in the Blessed Sacrament, but the sanctuary had to shut because of the Covid pandemic and it just offered an evening livestream. There was no way I could accept that! I explained to the nuns that it was vital that we pray in person at the sanctuary. They told me that they would discern what to do and call me back. In the meantime, I expressly asked Carlo for his intercession because if my husband was ready to let himself be loved by the Lord, we really shouldn't lose the opportunity! The sisters called me back an hour later to say that they would make an exception for us and that we could go. Thank you Lord! Thank you Carlo!
A few months later, my husband agreed to go on the At the Heart of Men retreat. But then the possibility of a third lockdown started looming. I prayed… I had my family and friends pray… I explained to the Lord once again how vital it was. Thank goodness! The retreat was still on and my husband left with his good friend. His wife said that I really had faith because the retreat was so close to being cancelled. Thank you Lord! Thank you Carlo! He returned from this retreat transformed. Over time, my husband has changed a lot, for the better. We have nothing to hide anymore. We love each other as we are. This may seem easy to say, but it is a daily struggle. I lost confidence in myself and in him, and today I am trying to regain my confidence.
The only thing for me now is that we love each other in weakness. This trial has made me understand how a wounded person can let themselves be fooled. Since then, I have become more compassionate towards human suffering.
The battle is not yet won because temptation exists. We are vigilant. Patience and perseverance make it possible to keep going. I know with a deep certainty that Carlo is watching over us. I ask him to look after my husband every day.
Now, these words are for you, my darling husband. You know how much I have always loved you. You know how much I have always believed in our calling to marriage. Just like the great hero King David, you – the hero of my heart – have fallen. I've learned that forgiveness has a price, especially when it hurts a lot. But you can be sure that I have forgiven you. Thanks to you, I understood how patient God is when I walk away from Him. You have taught me patience… You have taught me to forgive. I love you.
Do you too want to receive help from heaven to get rid of this addiction? We are here to pray with you and ask Carlo Acutis for his intercession: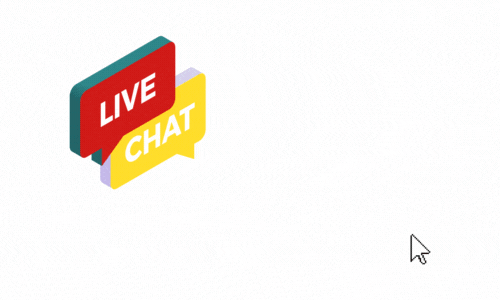 Going further: